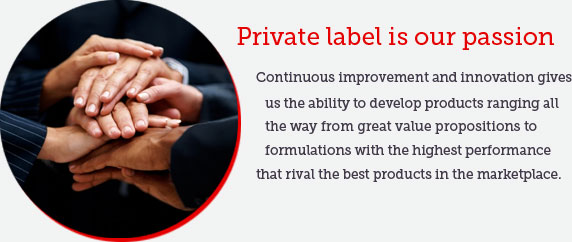 The ACT Group DMCC has operated as private label service provider since many years. Our experience and knowledge of the market allows us to take our clients ideas and create custom-tailored brands and products. We accept turn-key project and all that lies in between and develop and manufacture exclusive products featuring unique brand designs and concepts for our clients. We offer you everything from a single source. Our services range from label and packaging design to product development and also extend to encompass filling and final packing.
In developing and supplying brands for our customer's and the products they sell under these brands we bring our clients the best in quality service and integrity. It goes without saying that excellent quality management and full documentation are both included as standard.
Private Labels play an important role in today's economic environment through:
The attraction of lower prices and value for money for consumers.
The attraction of higher margin products for our customers
Enabling differentiation and building customer loyalty.
Enabling targeting precise customers and audiences
Providing further growth opportunities in both developing and emerging markets.
We specialize in product sectors we know well: Developing, designing and producing full lines of personal care & hair care products. A team of marketing, formulation and development and packaging specialist ensure creative, innovative and custom-tailored private label solutions for our customers. . Although we have a large pool of formulas for you to fall back on as required, we are, of course, also more than happy develop new formulas based on your specific needs. Our experience allows us to dive into new product sectors as well.

Our vision and mission is to be leading provider of Private Label solutions and products of exceptional value to our customers and their consumers. We aim to be recognized as the supplier of choice to all retailers in our markets.
We succeed through teamwork, focus on our customers, deliver on our promises.. The quality and commitment of our people enables us to succeed.

We work closely with our clients to create the perfect product and brand for their target audience. To do this personal interaction with all our clients is vital to our workflow. We interact on a day to day basis with all our clients in order to design the brand and product of their dreams. This allows us to provide highest quality services based on our client's needs and wishes.

Working closely with labs, research & development organizations and leading suppliers around the world allows us to create state of the art products. All our products comply with EU regulations and standards. Our strong commitment to utilize the best science and latest available raw materials ensures that we meet even the most demanding customer's expectations.
We are passionate about private label.
We focus on quality, service and integrity.
We offer a turnkey environment.
We conquer challenges and deliver value.