Unique products. Unique styling.
Styling is the triumphant finale of every appointment at the hairdresser's and the final stage in creating the perfect look for your clients. To secure your finished style, MAYA PROFESSIONAL TRENDSTAR offers professional styling products which provide strong hold and ensure long-lasting style with radiant shine and vitality.
MAYA PROFESSIONAL TRENDSTAR is an innovative styling brand developed by hair care experts blending state-of-the art technologies with naturally effective ingredients.
ACT Group DMCC not only developed the several hair styling powders for Blond Code but also was responsible for brand strategy, brand creation and implementation.
Visit the Trendstar website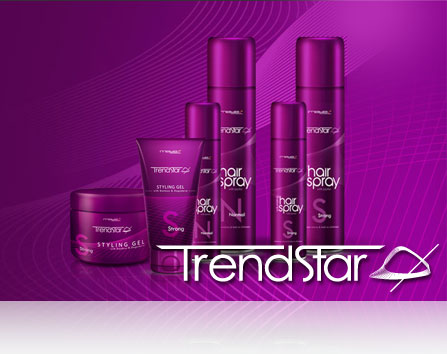 Hair Styling

Styling Gel Strong

Available in 150ml & 250ml

Hair Styling

Styling Gel Extra-Strong

Available in 150ml & 250ml

Hair Styling

Hairspray Normal

Available in 250ml & 500ml

Hair Styling

Hairspray Strong

Available in 250ml & 500ml

Hair Styling

Hairmousse Normal

Available in 250ml & 500ml

Hair Styling

Hairmousse Strong

Available in 250ml & 500ml